09.38
raedi's blog , Posted in
Language Reference
,
1 Comment
Glad to see you again my blogger friends :D, now i'll give you one example of review text. I'll hope with this post you can improve your english reading skills and know about the difference between one type of text in English and the other ones. After read this text, don't forget to follow my blog, give a comment, and wait for my next post, ok? :D

Let's improve our English guys ! ;)
The Village Club
( restaurant review )
From the moment you walk in through the door, everything about the Village Club says 'class'. From the beautifully dressed, helpful waiters in their white jackets and gloves, to the lovely violin background music, attention is paid to every detail. The Village Club is about more than just fine food.
I was meeting a friend there, so we decided to have cocktails in the comfortable bar before dinner. The expertly mixed cosmopolitans had just the right balance of sweet cranberry juice and a sharp taste of lime. From the bar, we could look into both the tea room and the main dining room. The tea room was so bright and cheerful. Colourfully-patterned comfy chairs were crowded around small low tables, which were covered in flowers. The rose-scented air drifted out towards us whenever guests left. I imagined falling asleep in the warm room. The elegant Victorian design in that room was tasteful and understated. A few circular tables stood along each wall of the candlelit room. Sturdy, high-backed chairs with soft cushions surrounded the tables. The room smelled like leather and oak, and the aromaof a perfectly cooked steak made my mouth water. As I sipped my drink, diners' forks and knives clinked softly, and their quiet conversations provided a soothing background to our dining experience.
The menu was unusually extensive, including appetisers such as spinach and ricotta ravioli, main dishes like juicy steak served with fresh vegetables, and dangerously rich-sounding desserts such as the double chocolate cake with bitter chocolate ice cream.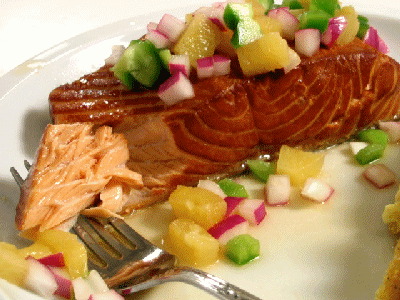 I decided on a simple salad to start with, while my friend went for the tomato and basil soup. For main course we choose the fillet of veal parmesan and the baked salmon. My salad was extremely fresh with a deliciously tart dressing. On the other hand, my friend thought the soup tasted bit garlicky, but it was not overpowering it. Unfortunately, while the salmon smelled wonderful, it was overcooked and a bit dry, and the vegetables were bland.
After this, we were too full for dessert, do that will have to wait for next time, and for me, there certainly will be a next time.
The Village Club is at 23 George Street, Birmingham.
Open for dinner 5-10 pm, Tuesday-Sunday, closed Monday.
Prices start at 25 Euro per person.